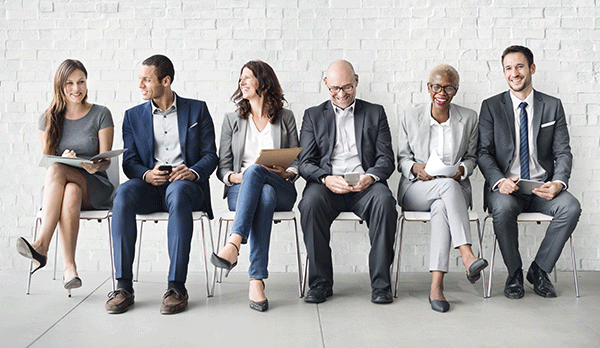 Attracting talent: How to get recruitment right
As businesses continue to compete for the top talent in the face of real economic uncertainty, it's more important than ever that HR professionals understand the importance of a smooth and efficient recruitment process, and how to implement it.
This is especially true for smaller businesses, as they are the ones most likely to be affected in the current climate. It's therefore essential that HR professionals have a robust recruitment strategy that will attract talented candidates and ensure that both parties get what they need from the recruitment process.
As the UK's largest job site, CV-Library is committed to connecting the nation's recruitment professionals with talented candidates; read on to discover the four things you should be doing to get recruitment right.
Make a plan
If the business is ready to expand, it's important to have a firm plan in place of who you want to hire, and when you want to hire them. By ensuring that HR teams are aligned with the business growth plans, it should be possible to map out each team within the company, and decide what they need, and what room is available for development.
Often, bringing on board staff who can grow alongside the company is a great investment, so when sourcing new talent, it's essential to bear this in mind. Looking for people who could develop in the future and who have the potential to grow into a new, more senior role with the right training and development is key, and can help to boost recruitment strategies.
Target the right applicants
Targeting high-quality applicants of the right calibre is crucial, and can make a huge difference to a business's recruitment process. By utilising tools that will enable you to hone in on your desired audience, whether via targeted eShots or featured job postings that will land in front of a wide, varied audience, targeting the right applicants is paramount.
Whether you choose to advertise a job role, or simply talk about your company and build up candidate awareness, proactively going after the next generation of recruits is key to a solid recruitment strategy. By speaking directly to candidates with specific skill sets or qualifications, HR professionals can rest assured that they're drawing in the best recruits who will help the business to expand.
Use a quality job board
The job board you use will often be dependent on the needs and the sector that the company operates in, however, it's important to do your research and pick a job site that aligns with the roles that you're hoping to fill.
Job boards often provide HR professionals with access to diverse talent pools, where you can actively search for candidates suited to your vacancies. Though there are many job sites available to choose from, a generalist site like CV-Library is often a handy go-to. And with many job boards now offering a free trial of the site and its services, you can test them out beforehand and ensure that they align with your recruitment strategy.
Ensure interviewers are prepared
Nowadays, interviews are very much a two-way process, and while the primary focus is on the candidate and establishing their suitability for the role, interviewers must ensure that they're prepared for the candidate's questions, and for the company to come under scrutiny. Essentially, HR professionals and recruiters now have to be at the top of their game, and make sure that they're asking the right questions.
Today's candidates know what to expect from the recruitment process, and the reality is that many aren't prepared to deal with a long, tedious process. If it's taking weeks to get back to candidates after an interview, or you're not offering feedback full stop, it could be worth looking to change this. Talented job hunters are unlikely to hang around, so if you want to attract and secure the best recruits, you have to move fast.
Attracting and retaining talent is key, especially in today's flourishing job market; businesses need the best candidates to continue growing. Recruitment can be a difficult game to play, but with a solid strategy in place, sourcing the right talent can be simple. As long as businesses ensure that their HR professionals and interviewers are prepared, and the right candidates are being targeted, attracting talent doesn't have to be impossible.